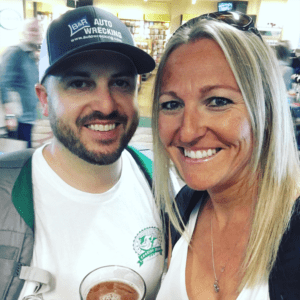 Surrogate Spotlight – Megan
The decision for me to become a surrogate started over 10 years ago when I was in college. I played volleyball and one of my teammates who was also a roommate and to this day, a dear friend, had epilepsy. There were many discussions about her fears surrounding the issue and what her path to motherhood might actually look like. It was in that developing friendship that I made a promise to myself. I would be a surrogate for her, or for any close friend of mine that needed it.
Since then, my friend was able to carry a baby on her own (thankfully!) and I have been witness to unfortunately a few more friends and family who have had fertility issues, also. My heart, and uterus :), have always been open to them yet, thankfully they have all been able to carry their own babies. So now I'm at this point in my life that I still have this deep desire to help someone in need, so here I am for you!
It just wrenches me to the core to know that there are people out there unable to have the family they desire. There is something so surreal about that moment that you first lay eyes on your baby and say 'WE MADE THAT!' I am looking forward to many of the experiences of surrogacy, and that one specifically gets me every time. I tear up just thinking about it! I can't wait to meet you and be that vessel for you to get to that point!
As for my pregnancy history, I've got 2 kiddos (almost 3 and almost 1 ½). Both of my pregnancies were very uneventful and smooth. My deliveries (in my eyes of course), couldn't have gone better. I decided very early on, with the support of my husband, Calvin, that I would strive for a natural, un-medicated birth. My husband was my support person in the room during both deliveries, and he actually delivered both of the kids (with the DR there to guide him of course). It was everything I have ever imagined it would be. In this surrogacy journey, I again would strive for a natural birth (although I am aware that that is all situational) and I am completely open to how you want that birth plan to go – if you want it small and intimate with just the two of you, great. If you want your entire family in there to experience it, great!
There are so many things that I am excited about… from getting matched up with you, to hitting those big milestones along the way, and of course the birth and that moment when you meet your baby for the first time. I can only imagine how sweet it will be! I am forever grateful to have the opportunity to help a family in need and am SO EXCITED to meet you and get this journey started!