Qualified Surrogate Candidates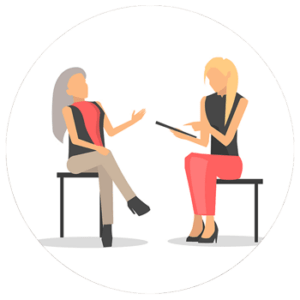 Our goal at Abundant Beginnings is to provide peace of mind to those who are looking to grow their family through surrogacy.  Matching our Intended Parents with a highly qualified candidate is crucial.
Where do we find women to apply and join our surrogacy program?
Referrals
We do this in a variety of ways, and the most important is through referral.  Having been involved in 3rd party reproduction for the past 15 years, we have a reputation of fairness and professionalism that follows us.  We take excellent care of our surrogates throughout the entire journey, ensuring that they are supported and have what they need each step of the way.  Because of these things, we attract highly qualified candidates who then refer their friends, family and community members to us.  They talk about their experience with their IPs and with Abundant Beginnings, and that draws in more highly qualified candidates.
While this allows us to continue to offer quality care to our clients, it also keeps us in touch with our former surrogates, so we get to follow their lives and watch them continue to grow and thrive.  Surrogacy is such an intimate experience, and it is truly an honor to become a part of someone's life in this way.
Marketing
We do advertise and share about surrogacy and the opportunities it can provide.  The marketing techniques we use attract women who see the value that helping other families can bring to their lives, along with the financial reward it can provide them.  Just a few examples, our surrogates often use the funds they receive to pay for their continuing education.  Many of them go on to become RNs or teachers or therapists.  Sometimes the money is used for a much needed family vacation, or a down payment on a home.  We had a surrogate use some of her funds to help remodel her parent's kitchen and get them new appliances.  It was her way of honoring her parents, and with the remaining money she started a college fund for her own children.
Interviewing
Here are the things we are looking for when we interview applicants:
The basic qualifications for a surrogate can be put in a bullet point list, which you will find on our website here. (Add link).  They must meet these requirements before we proceed to an interview.  The qualifications we look for in an interview go deeper.  Interviewing applicants is such an honor.  Each person we speak with is treated with respect, and we listen deeply to their history and reason for wanting to be a surrogate before we decide to proceed.    We are looking for someone who can handle potentially stressful situations and can juggle a lot of details.  While we help with logistics, it is important that the candidate has support and an ability to schedule her life in a way that makes surrogacy a priority, along with her own family's needs.
Vaccination and expectations
Will the surrogate agree to vaccinations and complete the necessary testing requested by the reproductive doctor? These have been stressful times during Covid, and as an agency we follow all the mandates per ASRM and fertility clinics.  We respect a person's right to choose whether they are vaccinated and to make medical decisions for themselves.  However, with surrogacy, we ask that the applicants understand and agree to follow the requirements established by the fertility doctor as the best environment to help the embryo(s) develop and a healthy pregnancy to be carried to term.  At this time, most of the doctors in the fertility field are highly recommending that the surrogate be Covid vaccinated as a way to protect the surrogate carrying the baby, and to protect the pregnancy.
Listening and clarifying
In a recent interview with an applicant, she asked if we would want her to vaccinate against Covid, because she had heard rumors that the mRNA vaccines were causing infertility.  She wanted to make sure she did the right thing that would help qualify her to be considered for our program. We are so grateful that she checked this out with us, and that we were able to dispel this rumor.  Once we explained that the fertility doctors are recommending the vaccine prior to embryo transfer, she was willing to schedule her first vaccination with the support and advice of her own doctor.
We are always so amazed and impressed with the women who sign up for such a generous act. We know everyone has so many questions when it comes to surrogacy, and we at Abundant Beginnings are always here to answer any and all questions.