Jennifer gave birth for her IPs this past August and shared her experience about her journey. We are so grateful for Jennifer, and all the amazing women and their families who agree to help others become parents.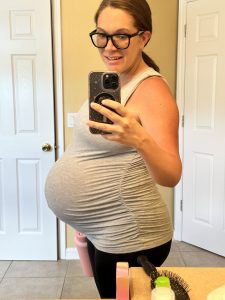 The entire surrogacy journey is still so surreal to me! I knew I was doing something good for a deserving family, but it truly didn't register until we were in the operating room for our scheduled c-section. I was just in awe of how big and beautiful the baby was, and then I heard the IP mom behind me crying with happiness, love and joy! She bent down to give me a hug and whispered in my ear "Thank you" and it was at that moment when I started to cry happy tears and truly realized how much of an impact I just made for this family. It's one of the best "jobs" I've ever had and I would do it again in a heart beat!
One of the things that surprised me about the journey was how "easy" the process is. I knew there would be a lot of stuff to do going into it, but I didn't expect it to flow as easily as it did. I chose Abundant Beginnings initially because I have a friend who was a surrogate with them. She spoke very highly of the company and her experience, and they offered great guidance to help make the process smooth and easy.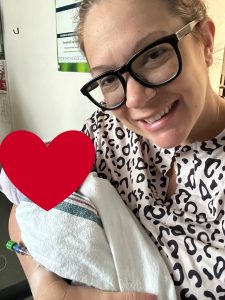 All of my family and friends were extremely supportive from day one. My kids would tell their friends that I was a surrogate and carrying someone else's baby, which resulted in some very interesting and hilarious conversations! My husband adjusted his work schedule as needed so I could go to all of my appointments. And I had friends constantly checking on me to make sure I had what I needed and to make sure I was doing okay, both physically and mentally!
Surrogacy was a great way for my family and friends to learn something new and to help our family be of service in such a big way. As a family, we appreciate the money I earned, and used it to pay off our new van, to build savings accounts for our kids, and then we put the rest into our own emergency savings fund!
What I would like other women o know who are considering becoming surrogate is to be patient and trust the process. The ladies at ABC are there to make the process as easy as they can for you. Be flexible with your time, and make sure you have an open line of communication with the ladies at ABC as well as with your IPs… it truly makes the process go much smoother!
I wanted to be a surrogate for a very long time, and after completing my journey I'm so glad I stuck with it and never gave up on this dream! My surrogacy journey may have ended, but I gained a family and the real journey is only just beginning!