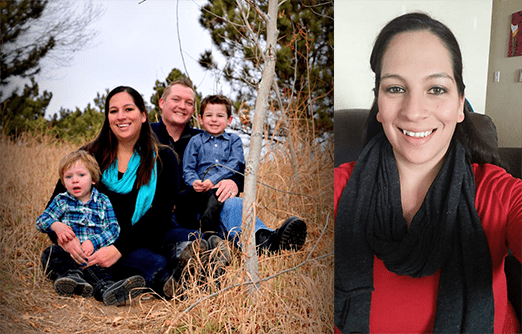 Surrogate Spotlight – Jennifer
Hello! My name is Jennifer, and you can call me Jen. My husband's name is Anthony, and we just celebrated 10 years together!  We have 2 crazy, big-hearted boys — Jayden, who is 4, and Madden, who is 2. My husband and I were born and raised in the lovely Rocky Mountain State of Colorado.
A bit more about me — I am passionate about children and have so much fun with them.  For my work, I am a full time nanny to a 6 year old, a 2 year old and a 5 month old. They all have different tastes and likes, so I need to be creative when it comes to activities!  Regular activities include going to the park or the Denver Zoo, swimming, walks, and fun crafts. I love sending their parents home with homemade crafts that reflect the current holiday or season. I love to be able to provide parents with affordable, safe and flexible childcare, and it allows me to stay with my own kiddos.
About 5 years ago, I knew I wanted to one day be a gestational surrogate. My sister-in-law was unable to have a second pregnancy, and she and her husband really wanted to have a large family. One day, she and I were watching re-runs of the TV show "Friends" when the episode of Phoebe becoming a surrogate for her brother came on. I blurted out… "I will do it for you!"
Although that didn't work out with my sister-in-law, I still had the strong desire to be a surrogate for someone.  When I became pregnant with my second child, I KNEW that I had to proceed with my dream and help someone complete or continue their family. The greatest gift to me will be to give the ULTIMATE gift of life to someone and assist them in become parents — I cannot wait. To me, raising my children is a blessing, and I hope to have the chance to help another feel what I feel raising my children.