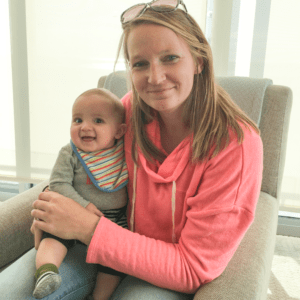 Six Months After Delivery
By: Julie Stromwall
On 7/15/15, I had the privilege of delivering a beautiful baby boy — the precious cargo I had been carrying for my Intended Parents, from my agency Abundant Beginnings™.  Since that day, I have been asked the following questions more times than I can count.  Here is a brief glimpse of what it's like 6 months postpartum as a surrogate mother.  Let me know if you have any additional questions that I did not answer, I would be happy to share even more with you. You can contact me here: social@abcsurrogacy.com
• How do you feel?
I feel excellent and here is why… I got to deliver the most precious gift ever to a couple who have waited to become parents for a very long time! On the physical level, the first 6 weeks recovering were a breeze, since I did not have to wake up and care for a newborn. I was able to spend my recovery time with my family and take it easy, not having to work or worry about much. Emotionally, my family and I enjoyed watching the parents admire their baby at the hospital… every square inch of him. It was such an incredible experience!  The only sadness I experienced was that it was over and that I had to wait to do it again.  This is very common for surrogates to feel.
• Do you see the parents often?
We don't visit regularly but I do get texts and pictures often from the parents!  I am one of the lucky ones who live somewhat near and can visit from time to time. This picture was taken recently. and you can probably tell how much joy it brought to spend time with this wonderful family! This baby is one happy little guy! His parents sure are lucky!
• Do you miss him?
Of course! I would miss anyone that I love! I am so happy he is here and with his loving family and that gives me great comfort and joy, knowing how much he was wanted. I knew going into the surrogacy journey, that he was not my baby and I would not be raising him, so I don't feel any sense of longing, just an overwhelming sense of peace and joy knowing that I contributed to someone's life in this way.
• Will you be a surrogate again?
Yes! I will be a surrogate as many times as my body allows.  Surrogacy is a wonderful gift to give and I love the joy it has brought the intended family and my family as well. I am in the process of being medically cleared for my second journey. We are so excited.
• Any regrets?
No regrets! I just wish my body could do this forever.  I love the experience.  My family is so excited for our next journey!  My husband and I enjoyed getting to know another couple in such an intimate process and we look forward to being able to support our next Intended Parents in a similar way.